Kirari Momobami
Kirari Momobami is a major antagonist from Kakegurui. She is the 105th Student Council President at Hyakkaou Private Academy, as well the one responsible for the current hierarchy at the academy. Kirari's family is aligned with the family of Yumeko Jabami.
Kirari Momobami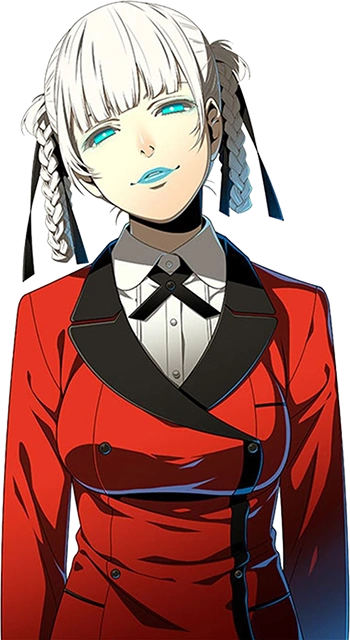 Appearance
Kirari is a girl with an average height. She has very light skin and long white hair, that is shown as being gray in the anime. She wears it in two knotted rings with ribbons entwined in them and a long bang that has two locks of hair on either side that come down to about her eyes. She has blue eyes and it is shown to wear a shade of blue lipstick and has blue painted nails (though in some official art it is seen as pink). She wears the standard Hyakkaou Private Academy school uniform which is a red blazer with black trim on the cuffs and around the neck and it is decorated with gold buttons that is complete with a black tie. She wears a gray colored skirt with patterns on it, black colored panty hose and Hyakkaou Private Academy's brown loafers with black soles. Outside of Hyakkaou Private Academy, she wears a black kimono with her family crest on the back and two crests on the sides with a floral printed obi and floral print on the lower part of the kimono and wearing white tabi.
Personality
Although a refined and proper lady on the outside, Kirari is in truth a calculating, manipulative, psychopathic individual with little regard for anything other than herself. A complete narcissist, she belittles everyone besides her, believing everyone is to play by her terms alone, as seen when Mary Saotome rejected her invitation to join the student council, she simply ridiculed whatever reasons could be had, as simply foolish and illogical.
More about her: Copyright